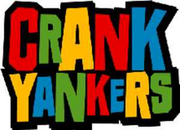 WELCOME TO CRANK YANKERS WIKI
A collaborative website about Crank Yankers that anyone can edit.
Crank Yankers is an American television series, produced by Adam Carolla, Jimmy Kimmel, and Daniel Kellison that featured actual prank calls made by show regulars and celebrity guests, which are re-enacted onscreen by puppets for a visual aid to show you what is happening in the call. The series premiered in 2002 on Comedy Central and returned to MTV2 on February 9, 2007, running again until March 30, 2007. The series screened in Australia on SBS Television and the Comedy Channel between 2003 and 2008.
Featured Poll
Edit
Do you want Crank Yankers to return?
Latest Activity
Edit