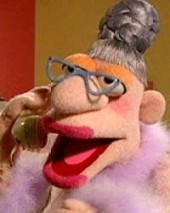 Helen Higgins is an elderly woman who was Elmer's wife.
Personality
Edit
Helen is sassy, sarcastic, stubborn, and trash-talking andliked to proposition young men.
Elmer and Helen were married for 60 years.
Her son gave her a pet parrot who is well-versed in swear words.
In a late-in-the-series sketch about Elmer wanting driving lessons, he mentions that she died.